30th Annual On Property Bull Sale – Friday 24th May – 12noon
73 Bulls
51 Purebred Polled Charolais (37 Homozygous Polled)
22 F1 Bulls – 10 Rosedale Blacks (Cha/Ang), 2 Charolais/Angus (Grey) and 10 Charolais/Shorthorn
Sale interfaced with AuctionsPlus
2019 Sale Results
Mark Griggs, The Land, May 2019 (original article)
BIG, polled and powerful is how James Millner described the $14,000 sale-topper of his Rosedale Charolais stud's 30th annual bull sale at Blayney on Friday.
Weighing 816 kilograms at 21 months, Rosedale Nagel, a son of Rosedale Harry and from the Palgrove Expo sired Rosedale Empress J167 was purchased by Jim and Jackie Wedge for their Ascot Charolais, Warwick, Queensland.
A total of 59 bulls sold at auction from the 71 head offering to average 4831 with 38 purebred Charolai bulls averaging $5184 of which three yearlings sold at $4000 each. Eleven of 12 Charolais/Angus-cross bulls topped at $5000 to average $4273 while all 10 Charolais/Shorthorn-cross bulls sold to $5000 and averaged $4100.
Helping to put a floor into bidding was a large Hunter Valley breeding enterprise which secured through Emms Mooney – Ray White, Blayney, 22 bulls from the offering paying $4000 each.
Bulls sold to Broken Hill, Tottenham, Geurie, The Lagoon, Paterson, Nyngan, Mandurama and Hunter Valley in NSW and Warwick and Guluguba, Queensland. AuctionsPlus purchased eight bulls for clien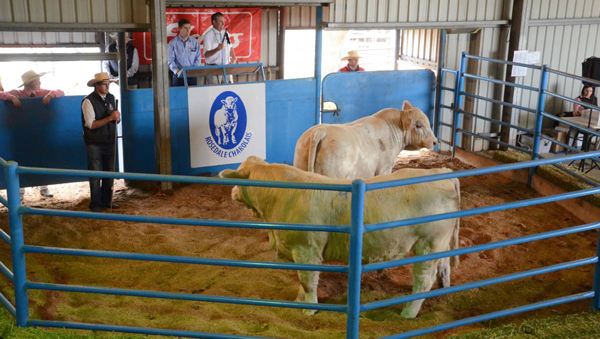 The $14,000 sale-topper, Rosedale nagel (P), with Elders Bathurst's Andrew Bickford, James Millner of Rosedale stud, and guest auctioneer, Paul Dooley, Tamworth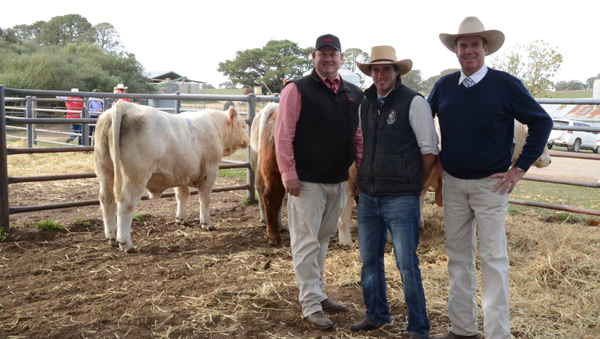 Lot 4, Rosedale Nagel sold for the top money of $14,000 to Jim and Jackie Wedge, Ascot Charolais, Warwick, Queensland.