Rosedale Ruby With Its Rich Superior Flavour, Perfect Marbling And Guaranteed Tenderness, Rosedale Ruby Is Simply Pure Australian Beef Of Distinction.
Raised on the pristine pastures across our farmland and grain finished for approximately 150 days, Rosedale Ruby is quickly becoming the most respected and trusted brand for pure australian beef of distinction.
Every cut of Rosedale Ruby A+ premium grade free-range beef comes from our herd of young, award-winning, prime Angus Charolais cattle that are approximately 20 months of age. Completely hormone and chemical free, the cattle are raised on pristine pastures at our farms in South Eastern Australia and then finished for approximately 150 days using our proprietary blend of natural grains and fresh artesian mineral water to ensure the finest flavour, tenderness, marbling and nutrition.
The name Rosedale Ruby draws upon our rich history and the exceptional qualities of "Ruby" who was a Grand Champion cow from our stud farm "Rosedale" which is located in Australia's lush, green food bowl over the Great Dividing Range, just four hours west of Sydney, Australia.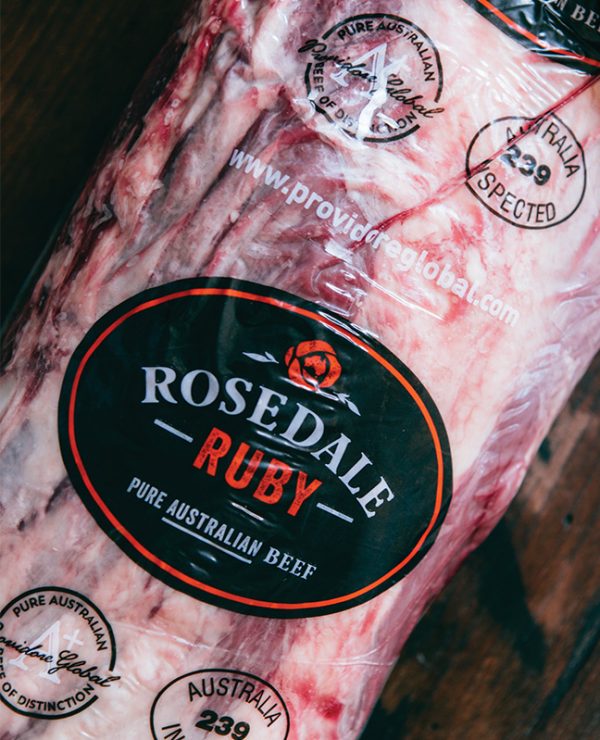 Proudly brought to you by family owned Providore Global.
Introducing The Smoking Brothers / Elwood's Eatery & Rosedale Charolais