An exciting paddock-to-plate venture, that began six years ago between James Millner and his Hong Kong-based cousin, Sam McNiven, has grown to provide a range of countries with quality, grain-fed Australian beef.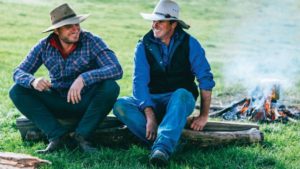 The Rosedale Ruby Beef brand, from the Providore Global Company, provides a hormone growth promotant (HGP) free product described as "pure Australian free range beef".
About 80 per cent of product is exported to a range of countries, including China and Hong Kong, the Middle East, Japan, Singapore and other areas of south east Asia, with recent European Union (EU) accreditation allowing for some shipments to go into the EU, Mr Millner said.
The program has now expanded, with about 600 cattle a month being processed under the brand, an impressive increase from the 50 cattle a month with which it began.
Mr Millner said the paddock-to-plate story is increasingly important for end consumers.
"They want to know where and how the cattle were raised," he said. "We decided on high quality grain-fed beef because it is a niche brand to get out of the commodity market, which protects us — if we can keep producing a high-quality product that people are happy with, we can pass on the price.
"There is good growth and demand for good quality Australian beef products".
Cattle to be fed and processed under the brand are sourced from the Millner's commercial operation, as well as through other private paddock sales, including the purchase of clients' cattle.
"Feeder cattle are taken in at 400 to 500 kilograms and fed for 110 to 120 days at the Tallawanta Feedlot near Moree. They are processed at Northern Co-Operative Meat Company, Casino, where we are targeting the 300kg to 350kg carcase weight," he said.
They source the best cattle around, taking both crossbred and purebred cattle.
"We feed both steers and heifers, but heifers generally have to be 50pc European breed content for us to take them," Mr Millner said.
"A Charolais/Angus is an ideal beast because it is a HGP-free product. This cross offers hybrid vigour."
All cattle processed through the Rosedale Ruby Beef brand are Meat Standards Australia graded which ensures the quality and consistency of the product.
The Millner family are avid supporters of steer and carcase trials across the country, in which they have had numerous successes over the years.
"They are a big part of promotion for our stud and our product. It is good to test our product on a level playing field against other cattle out there," Mr Millner said.